I decided I wanted to focus the next few posts on "no bread ideas". Yes, you read that right, I'm talking low-carb! I have received numerous messages via Facebook asking me to post low-carb snack and meal ideas for individuals on Atkin's, Heart Health diets, and other carb counting diets. I greatly appreciate the enthusiasm and hope you enjoy the posts!
1. Meatballs
2. Veggie Wraps
3. Nuts
4. Tuna Salad on Tomato
5. Avocado with Sunflower Seeds
6. Cucumbers with Ranch Greek Yogurt Dip
7. Cottage Cheese with Veggies or Fruit
8. Cucumber Tofu Rolls
9. Baked Coconut Shrimp
Baked Coconut Shrimp!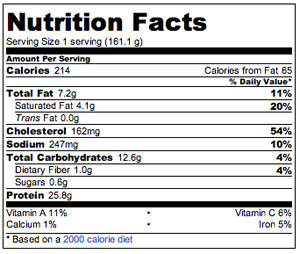 Ingredients:
Nonstick cooking spray
1/2 cup flaked unsweetened coconut
6 tablespoons plain panko breadcrumbs
3 tablespoons whole wheat flour
2 large egg whites
1 pound large shrimp, peeled, deveined, and patted dry
Salt and pepper
Dipping Sauce:
1/4 cup low-fat Greek yogurt
2 tablespoons lime juice
1 tablespoon ancho chili powder
Directions:
Preheat oven to 450 F. Spray baking sheet with nonstick spray.
Prepare dipping sauce. Combine Greek yogurt, lime juice, and chili powder in bowl and place in refrigerator to cool.
Combine coconut, panko, and flour in a large bowl.
Beat the egg whites in a medium bowl until slightly frothy.
Add shrimp to egg whites; toss to coat. Lift each shrimp from the egg whites, letting excess drip off shrimp. Coat in the crumb mixture, pressing to adhere.
Place the shrimp on a baking sheet in a single layer. Lightly spray with nonstick spray.
Bake until the shrimp are golden on the outside and opaque in the center or 8-10 minutes.
Serve with dipping sauce.
*Optional: Serve with grilled pineapple and green beans